Renovating your Kelowna home is both an exciting and possibly disruptive time in your life. We know from personal experience, that a live-in renovation can be challenging which is why we make every effort to prepare and schedule trades well in advance to make sure that the downtime is as minimal as possible. Communication is key during a live-in reno and we take the comfort of you and your family very seriously. We will plan around your schedules and do everything in our power to make sure that your renovation is completed in a timely fashion.
Arnold's Renovation Process
You can't be too prepared for a renovation. We spend the bulk of our time during a renovation in the planning stage. Taking a look at the existing structure, wiring, plumbing and visually inspecting all the potential little gremlins that could throw a big wrench in our timeline once we open things up.  We work carefully from plans to demo, reconstruct and beautify to today's modern aesthetic and more importantly building code. Ensuring that your renovation is safe and built to last and enjoy for years to come is our mantra at Arnold Construction.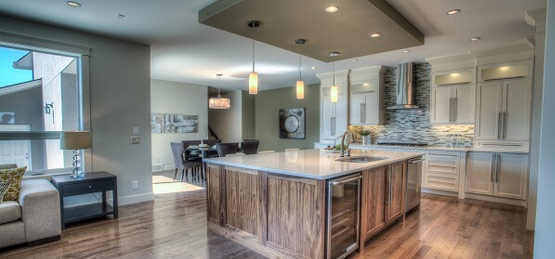 
Kitchen Renovation
The kitchen is the heart of the home, which is likely why kitchen renovations are one of our top requested renovations. There's nothing more satisfying than a brand new sparkly kitchen with all the latest bells and whistles. Whether you have a tiny kitchen that needs more space or your kitchen just doesn't function we can help! Contact us now!

Bathroom Renovation
Bathrooms with carpet still exist, but that doesn't mean you need to keep that trend alive. A renovated bathroom can not only provide efficiency and comfort for your busy family, but the updates will benefit you when it comes time to list your home for sale as well. Talk to us about bringing your bathroom up to date today – it's a renovation that's always worth the money spent.

Complete Home Renovation
Maybe you bought a fixer upper in your ideal Kelowna neighbourhood, or you didn't know your family would expand so soon, whatever the reason you want to renovate your entire home it's a decision that shouldn't be taken lightly or with inexperience. Talk to us if you're shopping around for a Kelowna renovation expert today, we are experienced in local renovations and home improvements.

Eco-Friendly Renovation
Eco-friendly home builds and renovations are becoming increasingly popular in the Okanagan and rightfully so. Not only do options like solar power and energy efficient heating and cooling make sense for our planet, they also help you save financially in the long run. Where ever possible we will suggest an alternative eco-friendly solution for your build from insulation to appliances. While you may not always choose the eco-friendly route due to cost or logistics, we will do our best to make sure that if an option exists to make your home eco-friendly we will present it to you. We also institute best practices for recycling and disposal on all of our job sites and are continually looking for new ways to improve.

Condo Renovation
Condo renovations come with a host of other contingencies that need to be considered before the first piece of drywall is hung. There are specific structural and common area considerations that need to be made as well as differing strata rules surrounding renovations.  Condo renovations can be smaller in scope, but are sometimes more challenging due to restrictions not commonly found in custom private homes. We encourage condo customers to be patient and expect the unexpected delays, but at the end of the day renovating your condo is a very rewarding process.

Patio Renovation
Outdoor living is essential to life in Kelowna. Creating a beautiful and functional outdoor space can not only add square footage in additional living space to your home, but it also adds value to your quality of life.  Arnold Construction has lots of brilliant ideas when it comes to outdoor entertaining and we would be thrilled to complete all your patio renovations from pergolas and outdoor kitchens to patios and decks. Contact us to expand your outdoor footprint.